Architecture, interior and product design students have used cutting-edge technology to create a virtual reality (VR) tour of a new building.
'Construction Fit Out' specialists ISG are carrying out the internal refurbishment and redesign of existing facilities for the new Institute of Technology (IoT). The company is one of the pioneers in using VR in architecture and interior design projects and so the College asked for their help in a creating a live brief for the students which would involve them creating a virtual reality tour of the yet-to-be-completed IoT.

We do a lot of work with local employers and embed live briefs into the curriculum. On this occasion, as VR in Architecture and Interior design is still in its infancy in the industry, we asked ISG to act as our client for the students' final major project. ISG use this cutting-edge technology and software in their company.

We are a forward thinking department and know that it is only a matter of time before other design industries will use this technology; therefore we took the initiative to embed it into this project. We visited ISG's offices so that the students could see the visual communication teams' work.

One very useful thing that the students took from the visit was the useful plugin software they utilise to turn 3D computer modelling into VR.
The students took a room each and developed their own designs using 3D computer modelling, to make this look realistic as possible, they used materials, light and various rendering tools (rendering is software that creates realistic photographic images of interiors).
Each student sent digital files of their room to the lead student acting as project manager (Ismail Naim) to assemble into the 3D floorplan Template. They created a complete walk through of the 1st floor of the building in VR using the plugin utilised by ISG.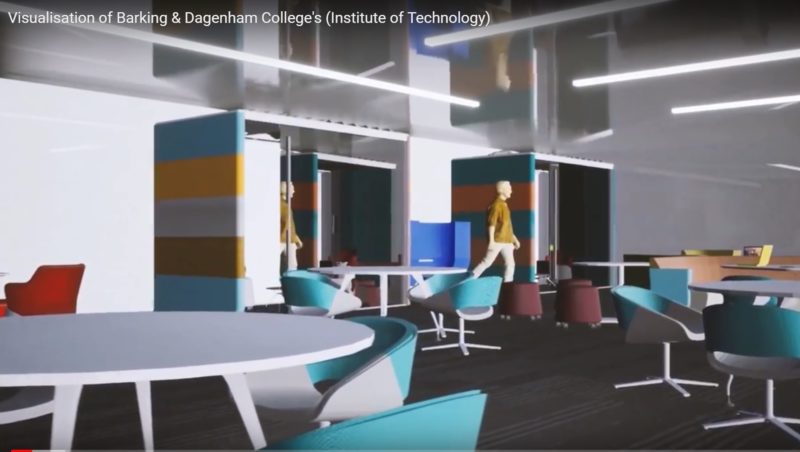 A screenshot of the Visualisation of Barking Dagenham Colleges Institute of Technology created by students