15th November 2022
Art students from Barking & Dagenham College are taking part in an online sale of their artwork for The National Brain Appeal.
The annual initiative, called A letter in Mind, involves artists producing work on an envelope and the work is displayed on the charity website to be sold. This year's theme is 'A sense of Movement'.
The identity of the artists is kept a secret until the works are purchased; all works priced at £85, giving students the chance to see their work, if accepted, on a website, raise money for the charity and when sold, they have their name shown on it.
The caliber of artists contributing includes, Grayson Perry and Paul Smith, as well as well-known celebrities such as, Harry Hill and others.
The online gallery opened on Friday last week and the works are also physically shown in a gallery in Percy Street, west London.
"This year, 25 students from all art courses took part, as well as tutors. Some of our students' work sold straight away! We are very proud of them and happy that we have been able to help this charity."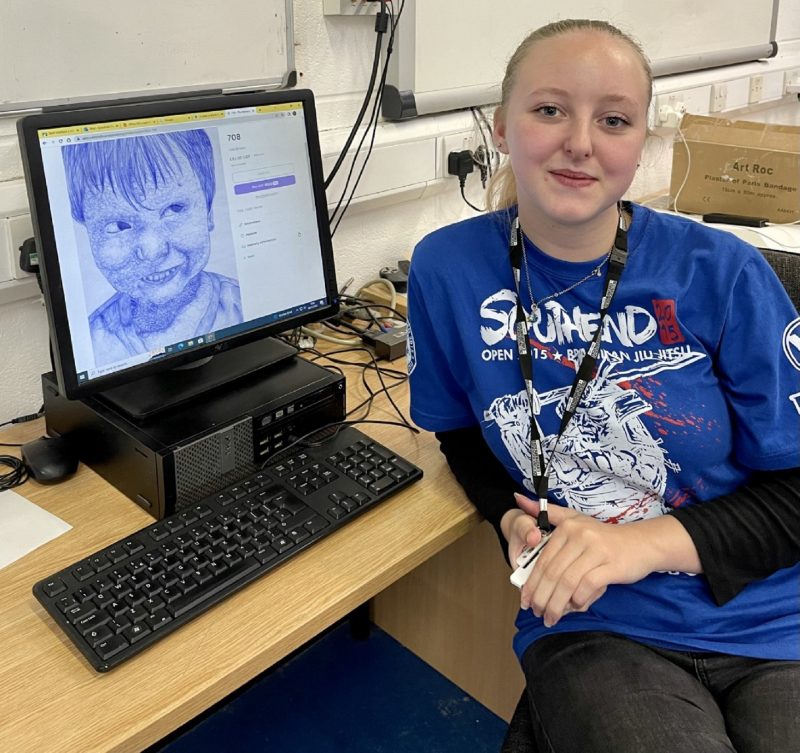 17-year-old first year Art and Design student Leia (pictured) has sold her biro drawing of her brother for The National Brain Appeal. Leia said: "I can't believe my piece sold so quickly and it's such a thrill to know that it will now be hanging on somebody's wall!"
Paul's own piece has sold already and can be viewed here.
In the first few days of the website going live, the charity raised £32K.