30th June 2023
Illumination Training prepares local students for Film & TV Industry jobs in intensive two-day workshop.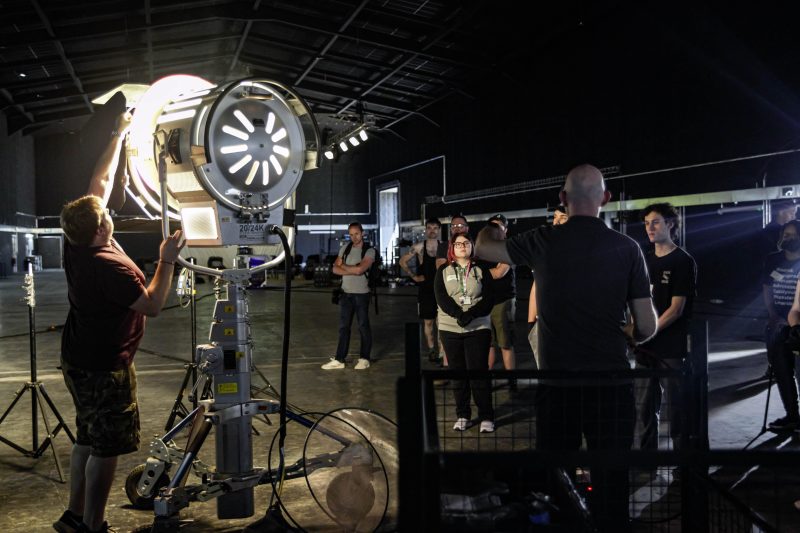 Katie Brett centre glasses watches as Toby Dare MBS Group shows students how to set up film lighting equipment
The MBS Group, the world's largest studio operating and production services company, teamed up with Film Barking & Dagenham and award-winning non-profit Ghetto Film School (GFS) to offer local students a unique hands-on learning opportunity. The MBS Illumination Training workshop was held at The Wharf Studios London on June 10 and 11, and sessions focused on developing the essential skills required to work in the film and television industry in the areas of set lighting and grip. 18 students participated in the program, at no cost.
The intensive, two-day workshop was Illumination Training's first appearance in the UK, although the program is no stranger to production hubs in North America. In just the last two years, Illumination Training has engaged more than 900 students and 130 instructors in workshops conducted from Los Angeles to New York and Toronto.
Those workshops, like the one in London, are designed to create career pathways to the entertainment industry for those who may not otherwise have access. Because the programs are practical —and the instructors are seasoned industry professionals, who are committed to mentoring participants in the long term—Illumination Training bridges the gap between learning about the industry and entering it.
While core training focuses on Lighting and Grip, Illumination Training also customizes workshops in other areas of production, including set construction, set decoration and prop management.
All Illumination Training programs are initiated in partnership with like-minded organizations, such as Film Barking and Dagenham and GFS. The collaborations work to achieve a singular mission—to diversify the creative landscape, nurture burgeoning talent and help participants secure jobs in the entertainment sector.
Since June 2021, Illumination Training has partnered with more than 17 non-profits and community organizations and has created more than 110 jobs or internship placements for its participants.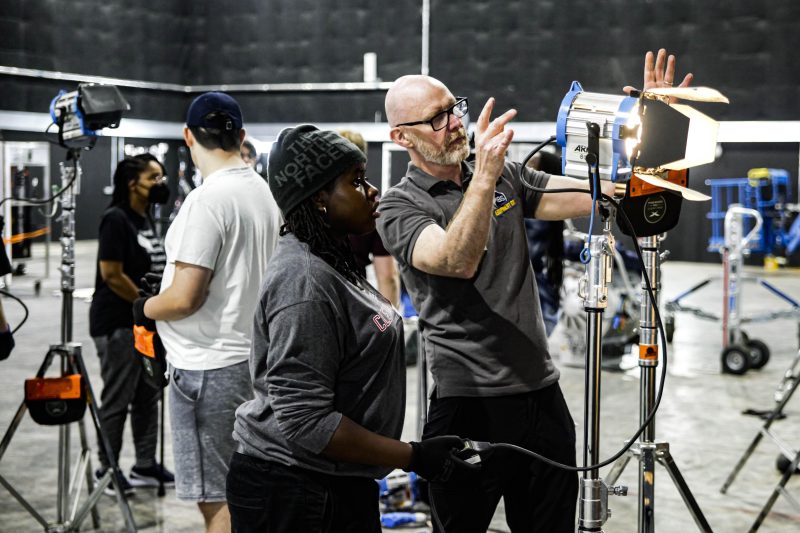 Toby Dare MBS Group shows an electricial student how to set up film lighting equipment
We are passionate about developing the next generation of film industry professionals, and we are thrilled to have expanded our ongoing educational programming with the first-ever UK sessions of The MBS Group's Illumination Training. In partnership with LBBD and The Ghetto Film School—and thanks to seasoned industry colleagues, Ian Barwick and Dan Walters, who served as instructors—Illumination Training's recent two-day workshop at The Wharf Studios London was a resounding success. Students learned invaluable skills in lighting and grip and gave the program rave reviews. We all look forward to the next workshop.
Our goal is to bridge the gap for students who may not otherwise have access to the training needed to obtain below-the-line jobs in the film and television. Leadership teams at The MBS Group and at Hackman Capital Partners, our parent company, pledged to promote educational opportunities that increase diversity, equity and inclusion in the entertainment industry, and as a result of that commitment, our program has already engaged over 900 students and created more than 110 jobs across North America. We couldn't be more excited to begin our work, here, in the UK.