25th July 2022
The East London Institute of Technology hosted an event for 80 schoolgirls, to find out about career opportunities in the Cyber industry.
The girls spent the day taking part in a number of activities, including an interactive 'Escape Room' exercise run by the London Metropolitan Police Cyber Choices Team, which proved very popular with the students.
They also got the chance to tour the East London Institute of Technology, as well as the new CyberHub Trust Security Operations Centre (SOC). They listened to a presentation by the Cyber Security Analyst Trainer and a talk on Cyber Bullying by Garth Jemmett of We Explain Stuff. In addition, the girls had the chance to find out about the numerous Cloud and technology career opportunities, during a talk by Namrata Das from AWS and hear from Barking & Dagenham College Principal, Yvonne Kelly.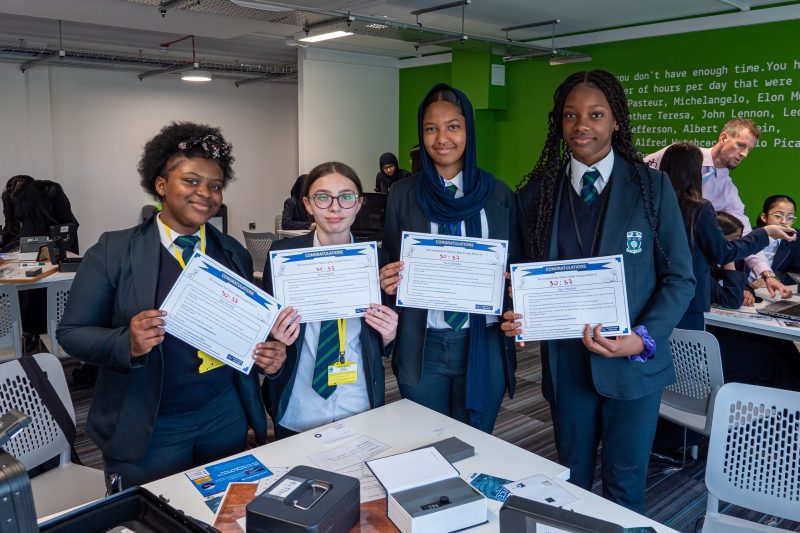 With girls attending from 10 different schools from the area, the event also offered the opportunity to network with other students who shared the same interest in cyber, which it is hoped will start a networking group that will grow over the years.

The worlds reliance on technology is growing and has particularly accelerated during the pandemic. With that brings new career opportunities, especially in areas such as cybercrime. In April 2022, over £700m was lost to fraudsters, compared to an average of £200m a month in pervious years. As a result, earlier this year, The East London Institute of Technology linked with the NCSC CyberFirst Girls Cyber Competition, supported by the CyberHub Trust and sponsor AWS, to introduce girls to the many cyber and cloud technology career opportunities. This latest event was designed to follow on from the competition and really show the girls what they could be doing in the future.

Michael Klonowski, CEO, The CyberHub Trust said: "One reason the CyberHub Trust was created, is to develop a pipeline of well-trained, qualified and experienced young people into Cloud & Cyber. We focus on the areas that represent real skills gaps, and that invariably includes female representation. The CyberFirst Girls Competition is an amazing programme that encourages young women into the field of Cyber Security - and the Trust is thrilled to work with the NCSC, and especially with the girls who will become members of the Cyber & Cloud community of the future. It was a pleasure to watch these young girls engage with the various speakers, and in particular their interaction with the Cyber Choices team. We look forward to more of these events in the near future."