20th April 2023
Over 1,000 students from colleges took part in a competition to produce a technology solution, addressing problems faced by young people.
BDC students presented their digital technology solutions in front of a panel of business-people at the final.
'Change' was the topic of the competition; specifically relating to the cost-of-living crisis, war in Ukraine and the environmental crisis.
Students were asked to submit initial proposals and the entries were whittled down to 120 finalists from four colleges. The finalists attended a special presentation day at Amazon Web Services' offices in Shoreditch, where they showcased their ideas in front of a large judging panel of business-people.
Judges, specialists and sponsors included representatives from Mastercard, ITV, Ford, and the Met Police.
The judging panel included Laura Tobin, meteorologist, author and weather presenter from ITV, who said, "This event was a great success, and the students were amazing. I left feeling inspired and uplifted."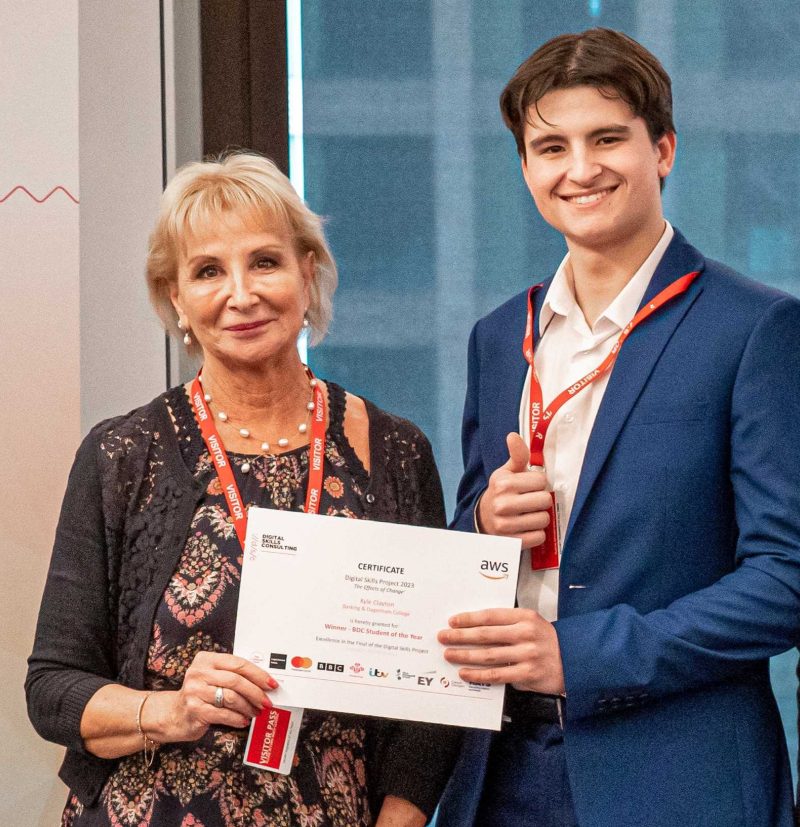 Students worked in project teams and had been coached and mentored throughout a 16-week period by the organisers, Digital Skills Consulting.
At the final, each team was given 15 minutes to present their submissions in front of over 130 people - explaining their ideas and how they developed them. Every student was then asked to reflect on what they had learnt from the project.
Prizes were awarded at the end of the event, with BDC students securing wins for Best Reflection (by a team called Self Discovery, led by student Vlad Boishakov) and Best Business Skills (by a team called Stumbr, led by student Kyle Clayton).
Kyle also won the Student of the Year award for the maturity he showed as the project manager of his team.
Their tutor, Katie Morgan commented, "We are very proud of the creative solutions that our IT and Game Art & Animation students developed for the digital project. It was due to great teamwork, and hard work on their part, so it was fantastic to see them receive awards at the final."
Having conceived, planned, and led the Digital Skills Project for the past seven years, Julia Von Klonowski said: "This really is the most amazing project, and I can't thank our experts and partners enough for the time and support they give. It's a perfect example of education, business, government, police and charities working together to provide opportunities to young people who would not normally receive this kind of experience or training.
"These students are the next generation of skills experts - and employers need to nurture this talent to ensure their businesses continue to thrive. Well done to everyone involved and I look forward to next year's project."