21st June 2023
Two local IT students have taken part in the WorldSkills National Qualifiers held at BDC to be named the best IT Support Technician.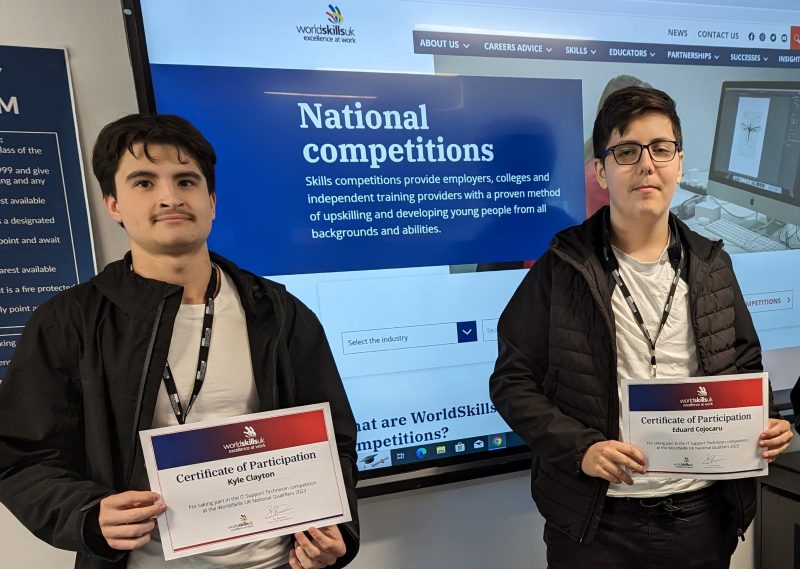 This was the first of 9 National Qualifier events for 'IT Support Technician', with 46 competitors from all over the UK taking part. Competitors from Aberdeen, Swansea, Bangor to Brighton have registered to take part.
The last Qualifier takes place in Cardiff on 27 June with the results being announced by mid-July. The top 8 scorers will qualify for the National Finals that are taking place in Manchester in November.
Kyle Clayton, 17, and Eduard Cojocaru, 16, competed in earlier events to secure their place in the qualifier.
During the competition, they had to do a variety of jobs that a professional network technician would do, including configuring client PCs, creating users, sharing files, setting permissions, and attaching wired and Wi-Fi devices.
Eduard said after the event: "It was a fantastic experience to be involved in the competition. It gave me an excellent insight into the industry, and I learnt a lot of new skills."
Shafaat Shah, Curriculum Manager IT, Finance and Accounts who mentors the learners for World Skills competitions at the College, added: "Kyle and Eduard should be proud of themselves, they did very well. This was a valuable experience for them, helping them to develop work-based skills which will be beneficial to them when they enter the world of work."
Toby Bell, Competition Organiser, WorldSkills UK said: "It's great to be here in Romford at Barking and Dagenham College to kick off the 2023 Qualifier stage with competitors using cloud based virtual machines in these state-of-the-art IT Labs."