13th May 2022
An innovative cyber security training course is helping businesses in the region to boost their in-house cyber security capabilities.
The East London Institute of Technology (ELIoT) developed The Information Security Analyst – Foundation course in collaboration with the BIT Group and the CyberHub Trust; IT professionals gain a thorough grounding in cyber security skills, equipping them to protect their organisations and customers against costly and damaging cyberattacks.
The ELIoT and the CyberHub Trust, as part of a Department for Education (DfE) In Work Skills Pilot, teamed up with Service Provider the BIT Group – a specialist in bespoke IT and cyber security training for commercial and further education organisations to develop the course.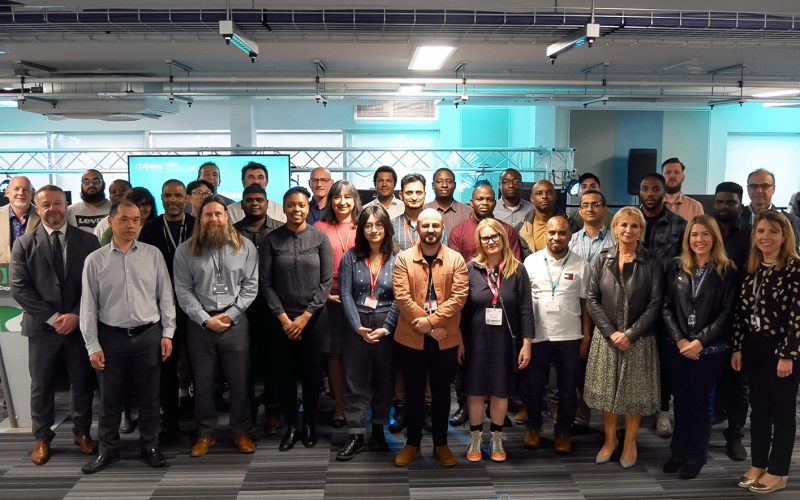 The 'graduates' of a Department for Education (DfE) In Work Skills Pilot run at The East London Institute of Technology with the various partners who ran the courses
It has been created to help address the 10,000-person shortfall in the UK's cyber security recruitment pool, identified in a 2021 government study. The approach enables employers to build information security resources internally, without needing to hire new people or invest in external support. Aimed at making cyber security skills more accessible, the training provides a broad insight into 'everything cyber', running on alternate weeks to fit around participants' day jobs. The skills they learn also give their employer a starting point to work towards the government-backed Cyber Essentials scheme, developed to help organisations defend themselves against online threats.
Participants are trained within the CyberHub Security Operations Centre (SOC) at the ELIoT, a fully functional security operations environment. This makes the College one of only three colleges in the UK (and it was the very first CyberHub) with its own on-site SOC, giving professionals a unique opportunity to learn in a hands-on way in a realistic environment.
The 10-day course, delivered between January and March, has attracted participants from several high-profile global companies including HSBC, HMRC, TikTok and Amazon.
The digital landscape is expanding exponentially and as a result, cybercrime and the need for cyber security solutions is also growing, meaning there are some incredibly exciting career opportunities on offer.

Our unique CyberHubs allow us to work together with government, law enforcement, educators and digital experts to develop and deliver pioneering Cyber, Cloud and Digital courses, work experience and, ultimately, careers.
Find out more about the CyberHub Trust at: www.cyberhub.org.uk