12:00am on Wednesday 5th May 2021
Wednesday, 5th May 9.00am - 4.00pm
Here at Barking & Dagenham College, our annual Inspiration Day gave our learners access to talks and workshops, tailored to their subject or the world around them, given by inspiring industry experts. They also got the chance to showcase what they have learned throughout the year, through some friendly competitions with their classmates.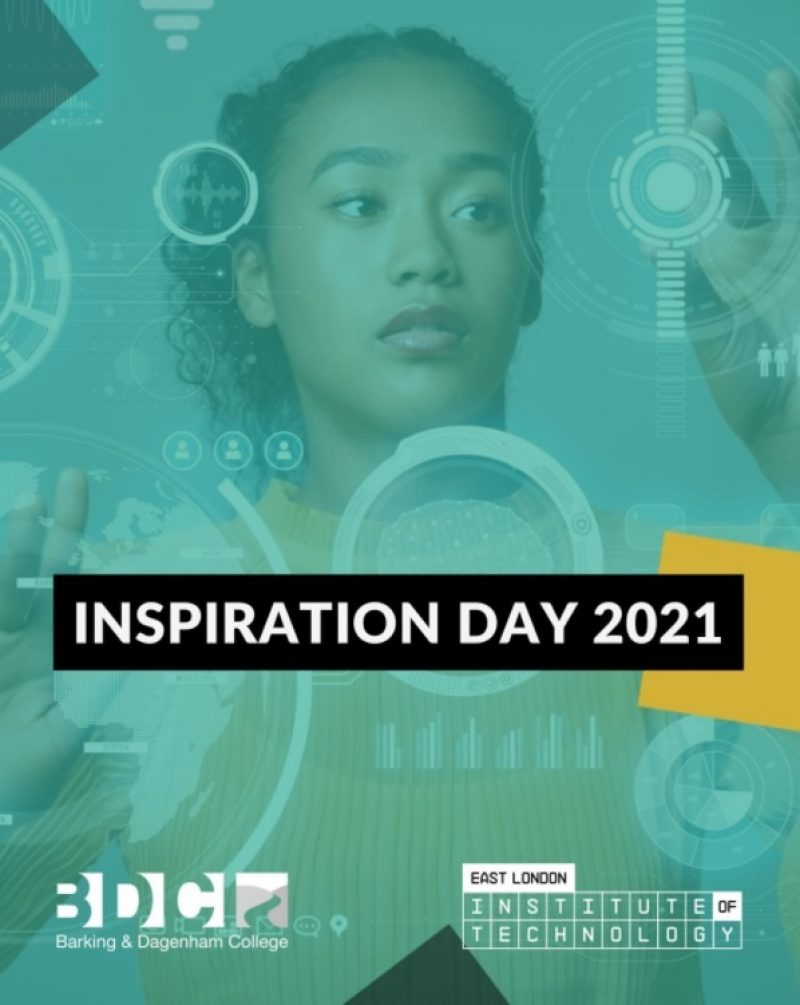 We opened the virtual doors to this year's event, to our local schools and colleges - so that they could be inspired by their future subjects and got a taste of life here at Barking & Dagenham College.

We congratulate all of our students who has won in the Inspiration Day competitions.

This year we had a whole day programme delivered online and 25 different competitions have been completed around 40 areas.

Click here for the Programme Booklet..
That's Pitchin' Competition
That's Pitchin'! presented by Barking & Dagenham College is an online competition for the youth of local Boroughs to showcase and develop their innovative business ideas, gain entrepreneurial training, participate in thought-provoking challenges, and stand the chance of winning the prizemoney, professional mentorship and much, much more!

REGISTRATION IS OPEN TILL 21st MAY!
ENTER – the official website will be announced during the event!
LEARN - join-in the Digital Workshops and learn how to develop your idea!
CHALLENGE - complete the challenges within the deadlines!
PITCH - top 10 finalists will be invited to pitch their ideas LIVE at BDC!
WIN BIG - the top three will share in £7,000 in prizes including £2,500 cash for the winner and more!
Relive the live sessions
Stemettes is an award-winning social enterprise working across the UK & Ireland and beyond to inspire and support young women into Science, Technology, Engineering and Maths careers (known collectively as STEM). Our three guest speakers share their experiences about the industry.
Joana Baptista is a 19-year-old founder of 3 startups and student at the University of Oxford where she reads Economics and Management. Her social enterprise, She dot, works to reverse social prejudice and bridge the socio-economic gap for young women through workshop, skills sessions and a series of children's picture books.
Jessica Levett is currently training in Software Development and is passionate about getting young people from all across the nation to learn and know about the amazing world of IT
Ciara Hughes is a PhD student in Fluid Dynamics at the University of Leeds. She graduated with a first-class Master's degree in Maths and Physics in 2019.
Stemettes
Sustainability and the future of the planet affects every single one of us and all that lives, grows and thrives with us. Victoria Tait, Global Sustainability Institute at Anglia Ruskin University is delivering an online session that illustrate what we can do both as individuals and as Schools and College community across East London, to take action for a more sustainable future - our future.
Adam graduated from Barking & Dagenham College in the summer of 2012, just before taking part in the London Olympics as a sprinter for Team GB. He is the 2014 European champion at 200 metres, and 4 x 100 metres relay, and part of the Great Britain team that won gold in the 2017 World Championships in the same event.
Adam has joined us virtually (from Florida!) and will be talking to us about his career and his journey as a professional athlete.
Competitions
Congratulations for all our Inspiration Day 2021 winners!
A big thank you to all our Partners!
Watch back the webinars that our partner companies have delivered..